26 May 2021
BTG Celebrates 100 Years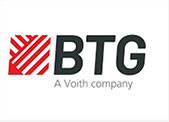 Established in Sweden, BTG Group has spent the past century dedicated to its founding principles of quality first, technology and manufacturing innovation, global reach and people development. Through the years, the Company's continued investment in core capabilities and strategic acquisitions have played a major role in strengthening its position in the pulp and paper industry.To commemorate the occasion of reaching the 100 year-milestone, BTG has launched a campaign re-emphasizing the values that have guided and that will continue to guide the company forward: innovation and customer-focus.
Excerpts from the interview:
Paper Mart: To begin with, what an accomplishment to be around after 100 years! As 2021 marks a century of serving the pulp and paper industry with innovative tools, products and solutions, please describe some of the biggest highlights in BTG's history?
Keith Waters: We are very proud to have reached the milestone of a century serving the pulp and paper industry with innovative solutions.
BTG has its origins in Sweden in 1921, when Torsten Källe, the inventor of a "regulator" to automate the control of temperature and load in a local sulfite mill, launched the Källe Regulator Company. Over the course of the next several decades, the company invented and developed a range of pulp consistency transmitters, steam conditioning valves and specialty pulp and paper analyzers before becoming Eur-Control in the 1960s.
After merging with coater manufacturer AB Inventing in 1985, BTG (Bonnier Technology Group) was formed, and the development of high-performance coating and creping blades soon followed. In 2001, BTG acquired Mütek, with its comprehensive range of inline and laboratory analyzers for the paper industry. In 2016, Capstone Technology, a leading provider of software for process control optimization and decision support analytics across several processing industries was acquired and in 2019, BTG became a wholly owned subsidiary of the Voith Group.
Fast forward to 2021 — BTG is a pulp and paper technology focused company with a unique capability to craft solutions that deliver sustainable gains in our customer's business performance.
Fast forward to 2021 — BTG is a pulp and paper technology focused company with a unique capability to craft solutions that deliver sustainable gains in our customer's business performance.
PM: Since the Voith Group had acquired the Company around a year and a half ago, we would like you to touch upon – the synergistic relationship of the two companies and the combined vision for further growth in the pulp and paper industry.
KW: Voith Paper and BTG have both been committed to delivering technological innovation to the pulp and paper industry for decades. As a full-line supplier, Voith Paper provides customer-centric solutions from a single source for an efficient and sustainable papermaking process. The BTG portfolio and competencies are highly complementary with those of Voith Paper.
Knowledge and experience are being shared both within our respective technology centres and in the field across to ensure that the combined capability is available to our customers. To ensure focus on our respective areas of expertise, BTG operates as an entity with Voith Paper and our sales and service teams remain engaged in delivery of pulp and paper solutions.
Together, we focus on making the world better with paper.
PM: In 2020, BTG had introduced SMART Monitoring as its first Industry 4.0 solution/service; could you please elaborate on the same and take us through your plans with regard to introducing more solutions with Industry 4.0 as its foundational principle/model?
KW: SMART Monitoring was developed consistent with BTG's guiding principle to deliver innovative, value adding, and customer-focused solutions. With SMART Monitoring, our engineers can be connected to BTG sensors at mill in real time, 24 hours a day/7 day a week, to assist in ensuring optimal performance. This enables teams to intervene faster, ensuring even greater reliability and availability.
The global drive to digitalization is at the centre of BTG's technology development pathway that includes the MACS suite of Advanced Controls and dataPARC, an industry leading data visualization and analytics platform.
SMART Monitoring is a step along that journey and is one of the many advanced digital solutions offered by BTG for the Industry 4.0 enabled paper mill.
PM: What is your viewpoint on the Indian pulp and paper market with respect to – the potential and the opportunities for the Company? What is your current market presence in India and expansion plans?
KW: The Indian pulp and paper market is rapidly expanding with a particular focus on packaging grades and achieving optimal yields from limited fibre resources. BTG has well developed competencies in these process areas, with local resources in place, and we are actively engaged in projects with our valued Indian customers. Our sales and service teams are based in both Gurgaon and Hyderabad, where we also have a service centre.
The Indian pulp and paper industry is an exciting place to be, and we are fully committed as it continues to develop and grow.
Voith Paper and BTG have both been committed to delivering technological innovation to the pulp and paper industry for decades.
PM: Also, the Company had introduced – Pulp 4.0 – an integrated solution to improve overall Fiberline performance, a while ago; could you please talk about the market-acceptance of the same and the advantages with regard to finance (production cost) and efficiency?
KW: Pulp 4.0 is about optimizing pulp quality and cost across the entire fiberline. It combines process measurements with our MACS advanced process control suite and strong domain expertise. MACScook and MACSbleach address digester and bleach plant optimization respectively and there has been significant interest from Indian mills.
The current state operations and savings potential are comprehensively assessed at the outset of a project providing a pathway to a sustainable return on investment. Typically, the savings are in the range USD 2 to USD 10 per ton.
PM: As BTG is now at a very significant juncture in its business journey – having completed 100 years and growing, what are the future goals of the Company? Also, what do you think are the aspects which have helped the Company in growing through the century?
KW: A commitment to quality, service and the delivery of solutions that assist our customers in achieving significant and sustainable gains in business performance has been a common focus for BTG for a century now. This remains central to our strategy as we start our next century.
The paper industry and technological environment of 2021 is very different to that of 1921. We will continue to adapt, developing our consumables, automation technologies, software, and process expertise to deliver high quality, productivity enhancing solutions that reflect a state-of-the-art approach. This is what has made us successful for the last 100 years!
PM: Any concluding thoughts that you wish to add to the interview?'
KW: Reaching the 100 Year milestone would not have been possible without the dedication of our employees over many years. People make the difference. We also thank our valued pulp and paper customers to be a part of this memorable journey and will continue to remain in their business endeavor.
Thank you for the opportunity to share the 100 Year milestone with our friends in the Indian pulp and paper industry.